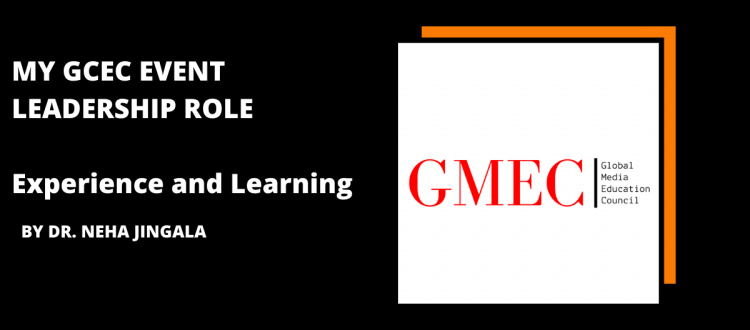 My GCEC Event Leadership Role: Experience and Learning
"Experience is considered to be one of life's greatest teachers"
Global Communication Education Conclave (GCEC) is a unique 75-days extravagant online event, initiated by Global Media Education Council (GMEC) . This worldwide gathering of media educators and practitioners, media institutes and departments of universities is designed to generate new knowledge, foster better understanding, forging and expanding international, intercultural experiences on different aspects of Media and Communication.
It was a great learning experience for me to get associated with GMEC. My role at GCEC offered me a great opportunity for professional growth.
As the Working Committee Member of GMEC, I got the privilege to organise 17th episode of GCEC on November 29, 2021. The tile of the webinar was 'Alternative Facts and Information Literacy in the Post- Truth Era: Takeaways from Past and Roadmap Ahead'. Part of my motivation for organising the webinar was that I find it a great way for me to learn and explore.
The webinar witnessed diverse representation of media luminaries from academia and industry across the world such as Mr. Frank W Baker (Media Education Consultant, US), Mr. Chetan Sharma (Senior Journalist) and Prof. Umesh Arya (Eminent Media Educator). Bringing them together to one platform- GCEC and their meaningful deliberations over significant areas related to alternative facts is what I consider my biggest accomplishment.
This webinar proved very beneficial in developing myself as a professional. Apart from my professional growth, it proved to be a way to further my personal development on many levels. Different skills gained while working with GMEC helped both in personal and professional life.
For a long time I was a little worried that if I were to moderate at a webinar of an international level, I would have to be flawless. Therefore, I did a lot of planning, preparation and practice to make the webinar a successful one. Giving all my efforts to it was an absolute worth. Entrusting of the responsibility by the Executive Body to organise this webinar proved to be a great self-esteem booster.
The amount of work that goes into organising and moderating a session is not insignificant. From brainstorming about the theme to identifying and arranging the speakers, coordination with the speakers & the organising team was a large time effort and commitment on the behalf of a working committee member. Working on the necessary details and other trivial stuff that I needed for the organisation of the webinar was certainly not time wasted, rather it was rewarding.
It helped me connect with the stalwarts of industry and academia. The platform provided to me by GMEC proved to be a great networking opportunity, which I couldn't have gained in any other way. GCEC was a terrific way to learn, grow, make connections and give back to the field of media and communication education.
While organising the webinar, I experienced a mixed bag of feelings- excited, anxious and all of these reactions were absolutely reasonable. I would have loved to say that everything went smooth and easy. However, that was not the case. Last-minute contingencies gave me some lifelong takeaways and taught me to remain calm and focused.
Had I not got the guidance of my mentors at GMEC- Prof. Ambrish Saxena, Prof. Ujjwal K Chowdhury and Dr. Uma Shankar Pandey, I wouldn't have pulled a webinar like this. They helped me immensely to put myself on stage and speak well.
In a nutshell, my experience while working on the webinar has led me to believe that one of the best qualities for a moderator is to exhibit all the organisational skills to keep the deliberation running smoothly. At GCEC I can proudly say that I have improved these skills and I can't wait to organise many more such sessions.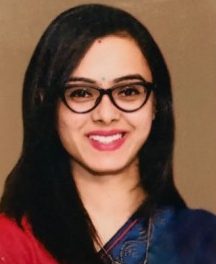 Dr. Neha Jingala
Working Committee Member, GMEC
Assistant Professor
Department of Journalism
Delhi College of Arts and Commerce University of Delhi