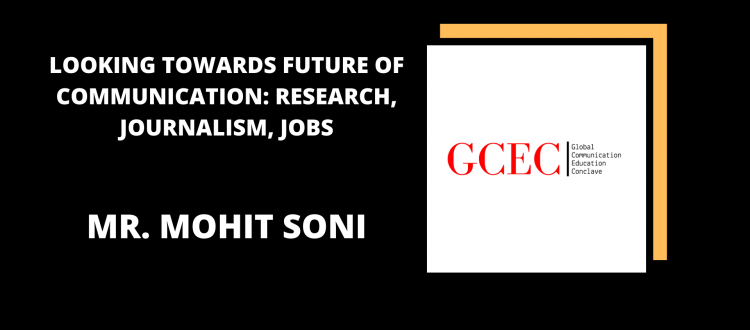 Looking towards Future of Communication: Research, Journalism, Jobs – Mr. Mohit Soni
GCEC- 8thCorporate Speaker: Mr. Mohit Soni, CEO of Media & Entertainment Skills Council (MESC)shared his pleasure about the conclave and that there was a need to focus more on skill development, apprenticeship, collaborations.
We all agree there is a lot more to be done at this time, what we have done so far or what we have achieved may not be even a fraction of a percentage to what the roadmap ahead is.
Today when we talk about the media industry, I am sure all of you will agree with me, we have seen not just the content development part reshaping itself but technological advancement has been something which has been a big role play for the media and entertainment industry to continuously evolve and survive upon and yet grow and multiforce.
We remember our days of b/w TV to Ultra HDs and iPhones making everything possible on our handles. Technology has played a crucial role and media entertainment so popular as we see it today.
One big area of concern has always been the quality of training programmes because the question when it comes from the industry is where are the skill resources. This has to be answered by educational institutions. And i think thats one big challenge to which lies on the shoulders of all our training institutions whether it is in the vocational space of training or whether it is in the formal space of training.
I have met lot if people who have done lot of research in various components in media studies. There have been papers which have been published, there have been discussions which have happened. The concern has much bigger impact on the prima-facia when looking at the output. But when we go back we have to identify the areas of why these concerns are and I feel one big area which we have identified is not industry alliances, not industry connections, not anywhere related on the academic curriculum. It is related to our teaching methodology. It is related on how our trainers are because at the end of the day somebody who is delivering a programme to the students needs to be well versed with what the industry requirements are. They need to be constantly updated and I see this as a bg opportunity for all of our academic partner institutions to have research model where the trainers actually go out in the industry to a fellowship programme for 6months, 1year, being in the industry and then comeback and put their exposure and experience on a piece of paper, develop new ideas of training, develop new methodologies as to how to communicate to the students and how to give them the opportunity to showcase themselves. These are some areas which I feel as a counsel we are exactly looking for to work along with our partner institutions.
As sector state council we have always been a bridge between the industry and the academia and humbly request all our academic partners to actually incorporate research based education integrated with industry orientation and apprentation as a component to the status and I am sure will he able to do that to widen up the scope of having right skilled resources who may have exciting opportunity as employees or who may be the next budding entrepreneurs.
We have some ways of incorporating a start-up modular incubation setup which most of the universities have right now. And plug-it with the international scenario and also look at how by in large the development of a region where the university is located can be taken on priority rather then just looking at the offshoot nationally or internationally. We would like to believe media has reached every household. It has reached across to every industry. A doctor today operates a patient virtually if it is a complicated operation rather then doing it in real life.
When we are having a programme in a module what we really focus on is entirely how we can train and develop somebody as a media or in entertainment professionally. Our ideology is to see how these people can find multiple opportunities whether it is an engineering student, management student any student from any background, how can possibly they be rolled across on to different opportunities which lie in the media and entertainment domain. Thats one big area of concern which I would really look forward for all of us to walk together and see how we can address it.
MESC has been closely working with GMEC and the entire team to see how revolution can be brought in the entire industry and how we can plug-in our industry partners to develop something which can be a refined model and progress this to identify the best of worlds possible further.
I believe we all need to understand from both sides if it, one from the industry and the academy and as a counsel to bridge the gap between both of these. Will be happy to see if any university partner, any colleges, any institutions are interested to see that they could be industry oriented based on model, research, training methodologies which are usually deployed not just in India but across the globe can be incorporated and inherited as a part of our education curricula.
We are trying to aim it from school education as per the new education policy and I think the framework will show some kind of difference if not immediately but maybe over the next 5-6 years. The school students starting from class 1st onwards will have education incorporated training modules and we will have not just drawing, acting, dancing, music not just as a hobby but something where the students would really see a value to build up career and a prospect further.
I am very hopeful that all of our energies put together which certainly create a very innovative research factor.