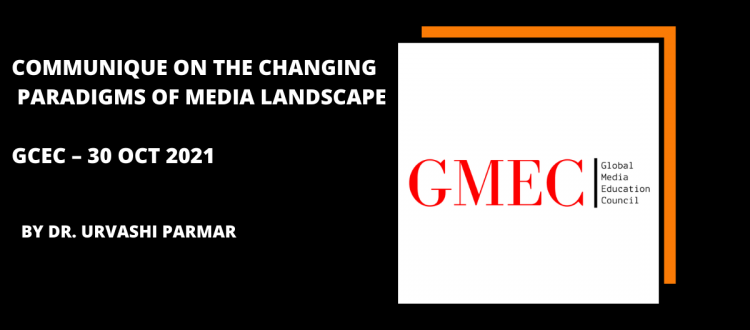 Communique on The Changing Paradigms of Media Landscape – Dr. (Ms.) Pankaj Mittal
Next, the moderator introduced the Chief Guest of the session Dr. (Ms.) Pankaj Mittal, Secretary General Association of Indian Universities, New Delhi. She started her speech by saying that media education like any other education was affected by the pandemic.
She said that the scenarios are almost the same pre and post covid, but as teachers, our methods of dealing with those scenarios have changed, and the major change is the change in the platform of teaching.  When we say how changes have occurred in teaching and learning methods, assessment and evaluation methods we are actually talking about the change in the technology. The pandemic in fact gave us the opportunity to collaborate with others in the teaching-learning process in a much cost-effective and time-effective manner.
Right now in our country, we are using the teaching method in which the teacher teaches in the classroom and the students go back home and try to analyse what they have been taught. In pre covid times we use to teach students in the classroom then they use to go home and analyse those teachings, in foreign countries flip classroom model was used in which the teacher gave study material in advance and they did just the discussion in the classroom. Because of covid have finally learned to use technology, something we should have done much earlier but we were avoiding, earlier teachers were not ready to adapt and learn the teaching methods using technology, but because of the pandemic they had to learn it, they had no other choice.
She further said that using technology for teaching methods is the new normal for educators and the learners and flip classroom methods should be inculcated in our education system for better learning. It is important that teachers should be taught how to teach online effectively, because it is very different from teaching offline, thus the capacity building of the teachers has to be done. Teachers often say that it is easy to teach the students offline, but become very difficult to teach them online, many teachers even start fumbling in front of the camera, so we should work on how to camera teachers camera-friendly, how to do animation, how to make videos for online teaching. UGC has done many such training sessions for the teachers but this has to be done on a larger scale. Along with teaching methods, evaluation methods have also changed post covid in the digital era.
Many universities have started taking continuous assessments instead of one three-hour-long examination, many ways are used but technology is required in all the ways. So if any institute is saying that we need to do continuous assessments now, it is important that first, the teachers need to be taught how to use the technology to do it. Thus the capacity building of teachers is very much necessary both for teaching learning and assessments and evaluations. Technology should be now used for the capacity building of both teachers and learners.
Digital is the new normal and we should learn to use the technology effectively. Right now we are facing some issues in the online mode but we need to find a way out to solve those problems, and in the future, the teaching-learning process will definitely be a blend of both digital and offline mode. She ended her lecture by saying that digital is the new normal and we have to learn it for a better teaching-learning experience.