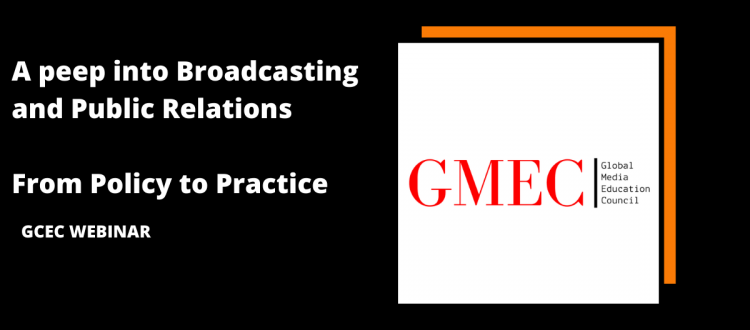 GCEC organizes Webinar on 'A peep into Broadcasting and Public Relations: From Policy to Practice'
October 25, 2021: The second episode of Global Communication Education Conclave (GCEC) 2021-22 was on the theme 'A peep into Broadcasting and Public Relations: From Policy to Practice. The Chief Guest of the session was Mr Vivek Varshney, Retired IAS, former Special Secretary in Basic Education and Program Implementation, U P who presented his talk on the theme.
Mr Varshney has served in different capacities like DM(Hardoi), MD UP State Infrastructure Dev Corp, In Govt as Special Secretary in diff department like Basic Education, Program Implementation etc. He went to the Duke University Raleigh, North Carolina, USA and to SLIDA, Colombo, Sri Lanka as a part of Govt sponsored Trg Prog. Also participated in Inservice Trg Programs in Tata Management Training Centre, Pune, TISS, Mumbai among others. Post-retirement working as OSD to UPHDMC to promote online sales of ODOP, an important program of UP Govt.
Mr Varshney during his address highlighted the challenges faced by a bureaucrat in dispersing his duties. He shared his views that how one can balance between the government and his service targeted at the welfare of the society and nation at large. He also explained the importance of communication in policymaking and implementation.
The programme started with the opening address by the session chair Prof. Ambrish Saxena, Dean, Media School, DME and Director International Relations, DME. He welcomed the audience and introduced GCEC and GMEC. He also elaborated on the importance of Broadcasting Media in raising issues of national importance.
He then conferred Lifetime contribution award to Prof. S Raghavachari, founder Course Director, Radio and TV Department, Indian Institute of Mass Communications. He was honoured with the Lifetime Contribution to the media and communication education.
Prof Chari was the founder Course Director, Radio and TV Department, Indian Institute of Mass Communications, the most prestigious institute of media training.
Prof Chari has been a Fulbright Scholar (Radio/TV/Film) at the University of Austin, Texas USA, Post Graduate in Political Studies and have studied Television Production at FTII, Pune, and Broadcast Journalism at IIMC. He has been in the media academics for over 30 years now. He has been International Trainer for Asia Pacific Institute of Broadcast Development (AIBD) Kuala Lumpur, Co-Trainer with BBC, Thompson Foundation, CNN Georgia Atlanta USA, for refresher programmes for DD News in India. In his last assignment, he was Associated with Amity University Mumbai as is Former Dean & Director, Amity School of Communication. Prof. Chari in his talk on 'Broadcasting: Political power and media hyperbole' raised many pinpointing questions on the credibility of the media.
The International Keynote Speaker was Ms Kathryn Lancioni, a PR professional, academician and author, USA spoke on Redefining the Role of the PR Practitioner. She is a Professor at Seton Hall University, USA. With more than 25 years of experience in the industry, Over the past several decades Ms. Lancioni, has helped dozens of domestic and multi-national companies conquer their market research, branding, public relations and investor relations challenges. Simultaneous with her industry work, Ms Lancioni has been teaching the nuances of public relations to students in colleges and universities across the United States. She has served on the faculty of Farleigh Dickinson University, Montclair State University, Rutgers University, Seton Hall University, St. John Fisher College and William Paterson University. She has guest lectured at Columbia Business School, Cornell University and Rutgers University.
Ms Kathryn elaborated how COVID-19 has redefined PR practice across the globe. She also explained her PPR model of PR.
During the session, one research paper presentation was done by Mr Vinod Rao N, Research Scholar, Department of Electronic Media, Bangalore University on 'Role of Cinema in Changing Viewer's Attitude: An Impact Study of Kannada Film 'Nanu Avanalla Avalu'.
The session was moderated by Dr Manasvi Maheshwari, Associate Professor, DME Media School. The event concluded with the summing up by Prof. Ambrish Saxena who connected all the dots in an interesting manner. 
GCEC official partners are IAMCR, Media and Entertainment Skill Council and Makhanlal Chaturvedi University and the day's webinar was organized in collaboration with Delhi Metropolitan Education.